Corporal Nathan Cirillo, 24, was killed in action (not murdered, not slain, not gunned down, but killed in action) by an extremist Muslim convert while guarding the War Memorial in Canada's capital, Ottawa. He is shown with his son Marcus, who is now five years old. Undoubtedly, Marcus is still waiting for him to come home.
 Others are waiting as well.
An attack on a war memorial, whether at Ottawa or at Arlington, is an attack on the very heart of a nation. Such an attack insults the memory of those who gave everything to preserve our freedom. Heretofore the memorials were watched over by honor guards with unloaded rifles. Now it may be necessary for the guards to carry loaded rifles – another sign of the times.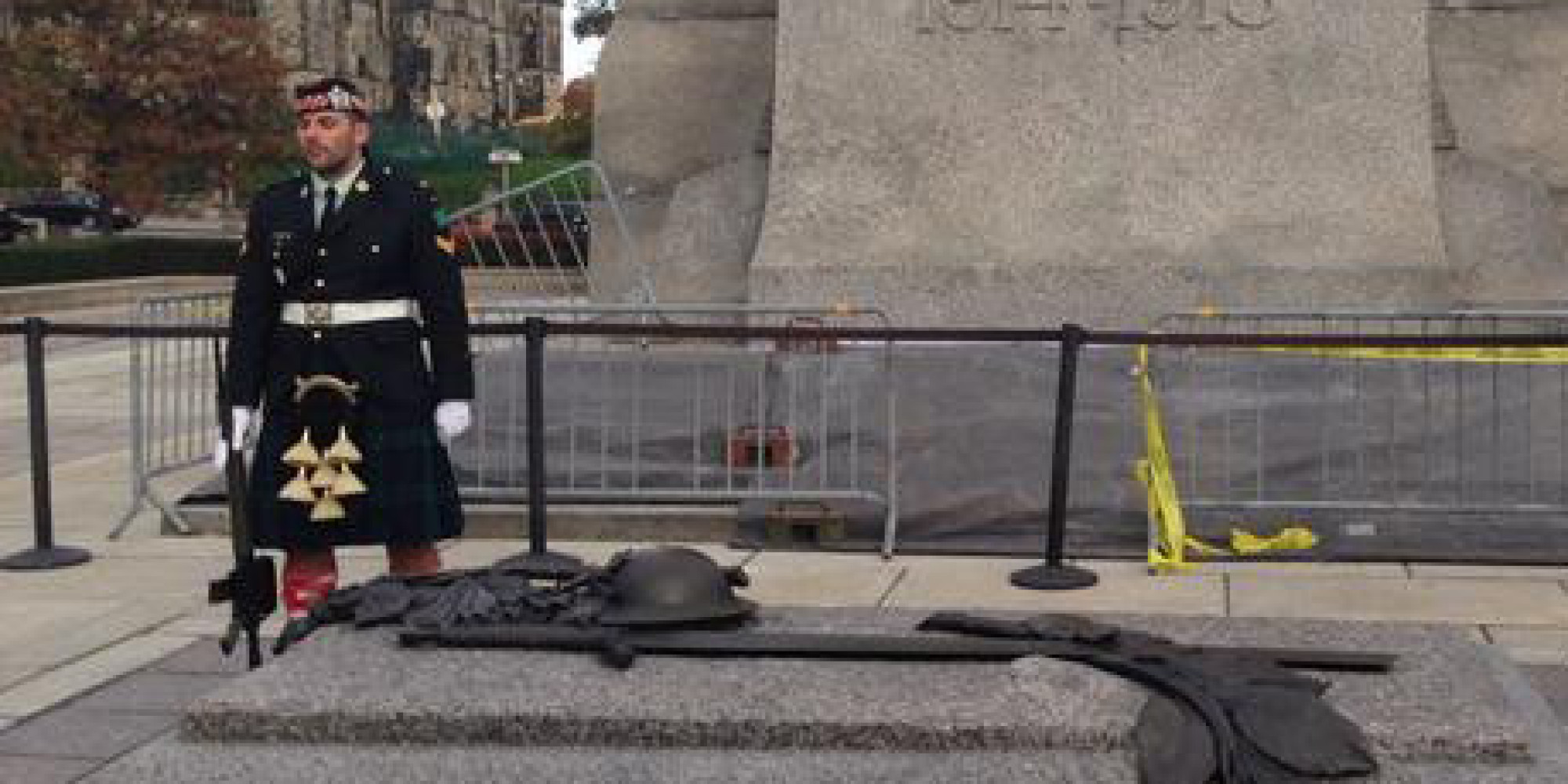 Kevin Vickers is Sergeant-at-Arms of the Canadian House of Commons. He is retired from the Royal Canadian Mounted Police.
He shot the terrorist who killed Corporal Cirillo and invaded Parliament. When they say Sergeant-at-Arms, they mean it literally. (Note the pistol in his right hand.) And when they sing, "O Canada, we stand on guard for thee," they mean that literally, too.
Corporal Cirillo served with Canadian Argyll and Sutherland Highlanders. One of its ancestors, the Sutherland Highlanders, made up the famous "thin red line" that broke a Russian cavalry charge in 1854. Similarly, police talk about the "thin blue line." Both lines may be even thinner now, but thanks to men like Corporal Cirillo and Sergeant-at-Arms Vickers, the lines are still holding.
Lessons learned:
1. Canada is lucky enough to have elected Prime Minister Harper, who can recognize terrorism when he sees it. The United States is unlucky enough to have elected President Obama, who can't recognize terrorism even after Harper points it out.
2. Harper is a Conservative. Obama is a Democrat. Might this fact, just possibly, have some relation to the ability to fight evil effectively?
3. You can't tell heroes by their appearance. Some look like white-haired grandfathers in formal suits. You can tell them by what they do, not how they look.
4. Canada considers Parliament building the "people's house." But now it needs police and metal detectors at the doors, because some of the "people" hate the nation in which they were born, the nation which gave shelter to their ancestors, who came looking for a better life.
5. Some of these haters, like the one who attacked Parliament, were born in Canada, but were radicalized in mosques and by the Internet.
6. Canadians and Americans need to deport hate-spewing imams, and to crash hate-spewing websites. As U.S. Supreme Court Justice Robert Jackson taught us, the Constitution is not a suicide pact.
7. "Gun-free" zones are nothing but free-fire zones for terrorists and criminals, as we discovered at Fort Hood, the Brooklyn Navy Yard, and the Sandy Hook school. Wisely, Canada did not make its Parliament building a "gun-free" zone, so the sergeant-at-arms could retrieve his pistol and end the attack.
8. If Kevin Vickers had been unarmed, he could have done nothing, no matter how heroic he was. Even heroes need tools to do their job.
9. When seconds count, the police are just minutes away. If this is true in government buildings, how much more true is it in your home?
●
Contact: dstol@prodigy.net. You are welcome to publish or post these articles, provided that you cite the author and website.
www.stolinsky.com